Course Date
20th August 2023
Delivery Format
Online Live
Join Our Generative AI: Techniques and Applications Today!
Ready to embark on a transformative learning journey? Don't miss this opportunity to gain valuable skills and elevate your career. Enroll in our comprehensive course today and join a community of learners dedicated to excellence. Take the first step towards unlocking your full potential!
Curriculum for Generative AI: Techniques and Applications
Module 1: Introduction to Generative AI 
Overview of generative AI and its applications

Introduction to generative models

Key concepts: generative models vs. discriminative models, probability distributions
Module 2: Fundamentals of Deep Learning 
Introduction to deep learning and neural networks

Training neural networks: backpropagation, optimization algorithms

Regularization techniques: dropout, L1/L2 regularization

Convolutional Neural Networks (CNNs) for generative tasks
Module 3: Variational Autoencoders (VAEs) 
Introduction to autoencoders

Understanding VAEs: encoder, decoder, and latent space

Variational inference and the reparameterization trick

Applications of VAEs: image generation, data compression
Module 4: Generative Adversarial Networks (GANs) 
Introduction to GANs and their components (generator, discriminator)

GAN training process: minimax game, adversarial loss

Architectural variations: DCGAN, WGAN, CGAN, etc.

GAN applications: image synthesis, style transfer
Module 5: Sequence Generation with Recurrent Neural Networks (RNNs) (6 hours) 
Introduction to RNNs and their variants (LSTM, GRU)

Applications of RNNs for sequence generation: text generation, music generation

Training techniques for sequence generation models

Attention mechanisms for improving sequence generation
Module 6: Reinforcement Learning for Generative Tasks 
Introduction to reinforcement learning (RL)

RL basics: Markov Decision Process (MDP), policy gradients

RL for generative tasks: policy-based methods, generative adversarial imitation learning

Applications of RL for generative AI: game playing, robotics
Module 7: Advanced Topics and Applications 
Deep generative models: PixelCNN, Glow, RealNVP

Adversarial examples and defenses

Domain adaptation and transfer learning in generative AI

Ethical considerations and challenges in generative AI
Module 8: Hands-on Projects and Case Studies 
Practical implementation of generative AI models using popular frameworks (e.g., TensorFlow, PyTorch)

Guided projects and assignments to reinforce concepts learned

Case studies showcasing real-world applications of generative AI
Module 9: Future Trends and Conclusion 
Emerging trends in generative AI research

Challenges and opportunities in the field

Final thoughts and wrap-up of the course
For admission to this Generative AI: Techniques and Applications Course, candidates should have: 
Basic Programming Knowledge

 

Database Fundamentals

 

Data Analytics Basics

 

Mathematics and Statistics (recommended but not mandatory)

 

Data Analysis Tools (e.g., Pandas, NumPy, SQL) (recommended but not mandatory)

 
Course Outcomes
Upon completing the Generative AI: Techniques and Applications course, you will be able to: 
Understand the fundamentals of generative AI and its applications in various domains.

 
Implement and train generative models such as VAEs, GANs, and RNNs.

 

Generate realistic images, synthesize new data, and create sequences using generative models.

 

Apply generative AI techniques to real-world problems and scenarios.

 

Gain insights into reinforcement learning for generative tasks.

 

Recognize and address ethical considerations and challenges in generative AI.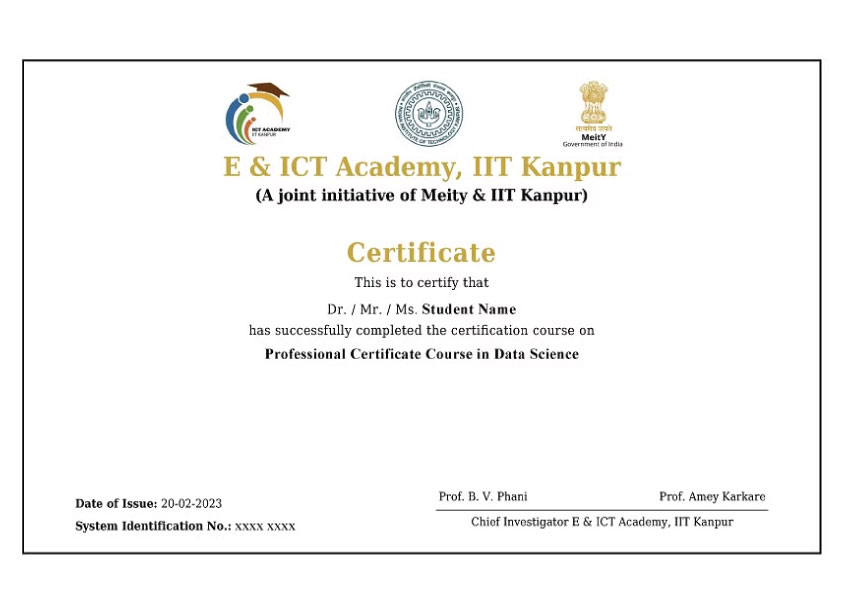 FAQ for Generative AI: Techniques and Applications Course
Admission Process
The application process consists of three simple steps. An offer of admission will be made to the selected candidates and accepted by the candidates by paying the admission fee.
Submit Application 
Tell us a bit about yourself and why you want to do this program 
Application Review 
An admission panel will shortlist candidates based on their application 
Enrolment
Selected candidates can join the program by paying the admission fee