Course Date
20th August 2023
Delivery Format
Online Live
Join Our Data Engineer Today!
Ready to embark on a transformative learning journey? Don't miss this opportunity to gain valuable skills and elevate your career. Enroll in our comprehensive course today and join a community of learners dedicated to excellence. Take the first step towards unlocking your full potential!
Curriculum for Data Engineer
Module 1: Advanced Data Manipulation and ETL (10 hours) 
Overview of ETL processes

 

Advanced data manipulation techniques

 

Data validation and quality assurance

 

Error handling and exception management

 

Automation of ETL workflows

 
Module 2: Database Design and Management (10 hours) 
Database architecture and design principles

 

Relational database management systems (RDBMS)

 

Indexing and query optimization

 

Data modeling and normalization

 

Performance tuning and monitoring

 
Module 3: Big Data Technologies and Distributed Computing (10 hours) 
Introduction to big data technologies

 

Distributed file systems (e.g., Hadoop Distributed File System)

 

Big data processing frameworks (e.g., Apache Spark)

 

Scalable data storage and retrieval

 

Parallel processing and distributed computing

 
Module 4: Data Warehousing and Data Integration (10 hours) 
Data warehousing concepts and architecture

 

Dimensional modeling and star schema design

 

ETL for data integration and transformation

 

Data staging and data mart development

 

Metadata management and data lineage
For admission to this Professional Certificate course in Data Science Engineer Course, candidates should have: 
Basic Programming Knowledge

 

Database Fundamentals

 

Data Analytics Basics

 

Mathematics and Statistics (recommended but not mandatory)

 
Data Analysis Tools (e.g., Pandas, NumPy, SQL) (recommended but not mandatory)
Course Outcomes
Upon completion of this course, students will be able to: 
Perform advanced data manipulation and transformation using ETL techniques.

Design and implement databases with optimal performance and scalability.

Utilize big data technologies and distributed computing frameworks to process and analyze large-scale datasets.

Develop strategies for data warehousing and integrating data from multiple sources.

Create end-to-end data engineering solutions to meet business requirements.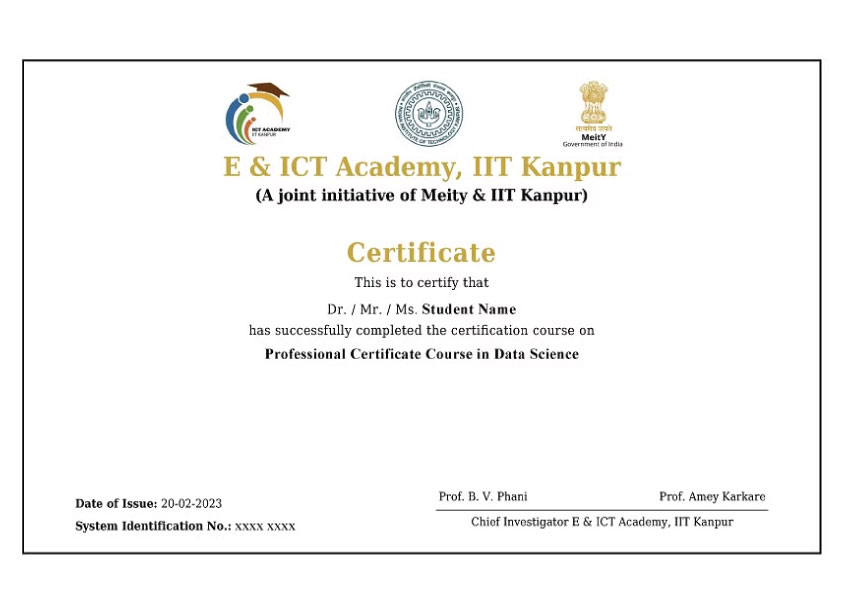 FAQ for Data Engineer Course
Admission Process
The application process consists of three simple steps. An offer of admission will be made to the selected candidates and accepted by the candidates by paying the admission fee.
Submit Application 
Tell us a bit about yourself and why you want to do this program 
Application Review 
An admission panel will shortlist candidates based on their application 
Enrolment
Selected candidates can join the program by paying the admission fee