Course Date
20th August 2023
Delivery Format
Online Live
Join Our Data Scientist Today!
Ready to embark on a transformative learning journey? Don't miss this opportunity to gain valuable skills and elevate your career. Enroll in our comprehensive course today and join a community of learners dedicated to excellence. Take the first step towards unlocking your full potential!
Curriculum for Data Scientist
Module 1: Advanced Statistical Analysis (10 hours) 
Hypothesis testing and confidence intervals

 

Analysis of Variance (ANOVA)

 

Non-parametric statistics

 

Time series Analysis

 
Multivariate Analysis techniques

 

Hands-on project: Analyzing real-world datasets using advanced statistical techniques.

 
Module 2: Machine Learning Techniques and Model Interpretation (10 hours) 
Regression models (linear regression, logistic regression)

 

Decision trees and random forests

 
Support Vector Machines (SVM)

 

Ensemble methods (bagging, boosting)

 

Model interpretation and Feature importance

 

Hands-on project: Implementing and evaluating machine learning models for classification and regression tasks.

 
Module 3: Data Visualization and Storytelling (10 hours) 
Principles of data visualization

 

Exploratory data Analysis and visualization techniques

 

Designing effective visualizations for different types of data

 

Storytelling with data and creating compelling narratives

 

Dashboard design and interactive visualizations

 
Hands-on project: Creating impactful data visualizations and presenting insights through storytelling.

 
Module 4: Experimentation and A/B Testing (10 hours) 
Designing experiments and Hypothesis formulation

 

Conducting A/B tests and analyzing results

 

Statistical significance and power Analysis

 
Experimental design for online platforms

 

Interpreting experiment results and making data-driven decisions

 

Hands-on project: Designing and conducting A/B tests on real-world scenarios.

 
Module 5: Real-World Case Studies (5 hours) 
Analyzing and addressing real-world data science challenges

 
Applying learned concepts to solve practical problems

 

Demonstrating proficiency in data-driven decision-making through case studies.

 
For admission to this Professional Certificate course in Data Scientist Course, candidates should have: 
Basic Programming Knowledge

 
Database Fundamentals

 

Data Analytics Basics

 

Mathematics and Statistics (recommended but not mandatory)

 

Data Analysis Tools (e.g., Pandas, NumPy, SQL) (recommended but not mandatory)

 
Course Outcomes
Upon completion of this course, students will be able to: 
Gain expertise in advanced statistical analysis, including hypothesis testing, ANOVA, and time series analysis, enabling meaningful insights from complex datasets.

 
Acquire practical knowledge in machine learning techniques like regression, decision trees, and support vector machines, along with understanding ensemble methods for classification and regression tasks.

 

Interpret machine learning models and determine feature importance to make data-driven decisions and improve model performance.

 

Master data visualization principles, design impactful visualizations, and create compelling narratives for effective data communication.

 

Develop proficiency in experimentation and A/B testing, applying statistical significance and power analysis to make informed decisions and solve real-world data science challenges through case studies.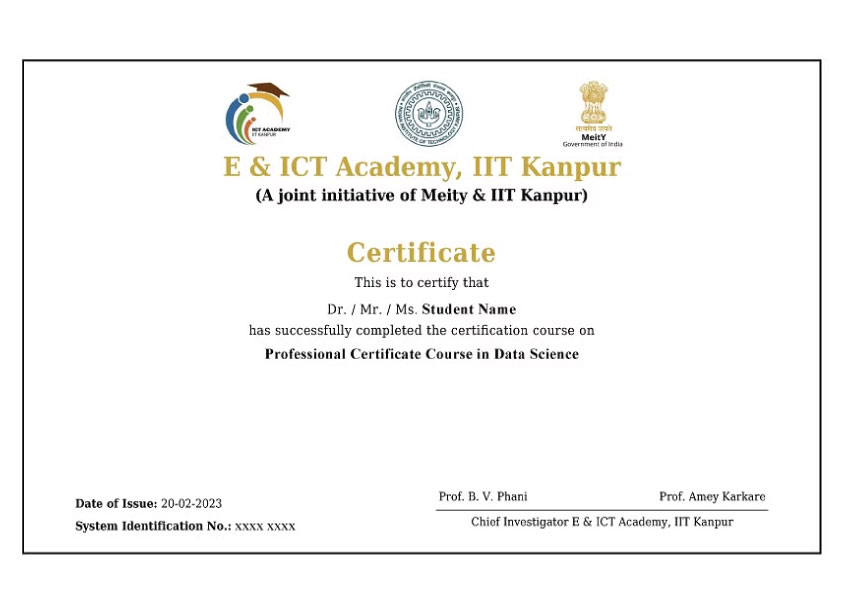 FAQ for Data Scientist Course
Admission Process
The application process consists of three simple steps. An offer of admission will be made to the selected candidates and accepted by the candidates by paying the admission fee.
Submit Application 
Tell us a bit about yourself and why you want to do this program 
Application Review 
An admission panel will shortlist candidates based on their application 
Enrolment
Selected candidates can join the program by paying the admission fee